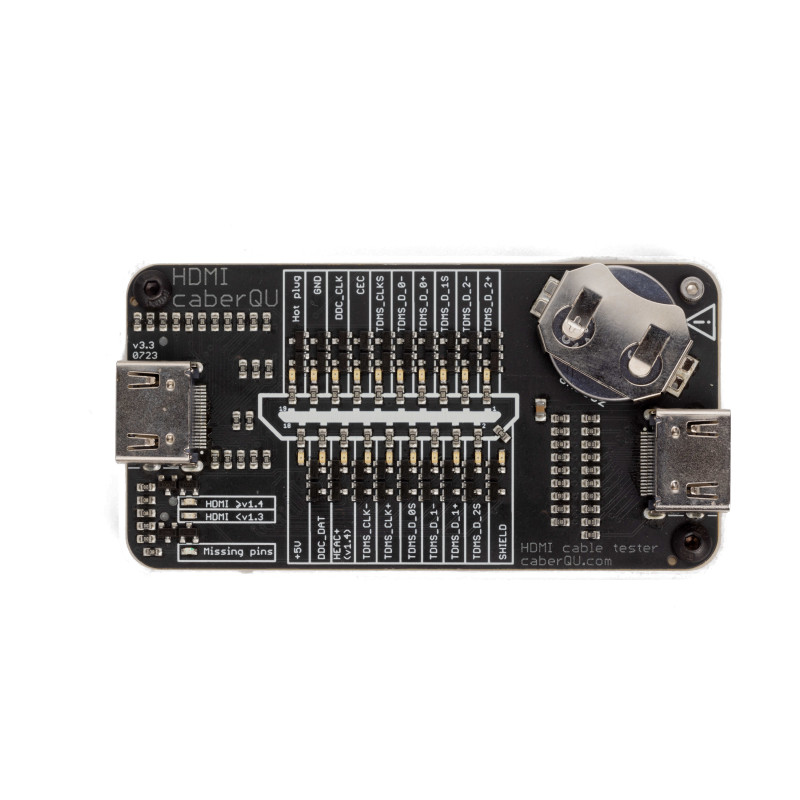  
HDMI caberQU
Security policy
Payments are protected and transmitted fully encrypted.
Delivery policy
We fully refund your order if anything gets lost in shipping.
Return policy
Items can be returned within 14 days, no questions asked.
What is it?

The HDMI caberQU board applies a voltage to all pins of a cable and measures which ones are connected to the other end. It features LEDs for each of the 19 pins and even shield.
Additionally it checks for the presence of the necessary wires for HMDI < v1.3 and >=v1.4. A red LED is lit if any pins are missing to indicate a non-conformal cable.

There is an extensive manual included which explains the connectors, modes and necessary pins.

Why did you make it?

There are a lot of HDMI cables floating around. Often times the only work in certain angles, sometimes only in the right environments. Debugging them tends to be time consuming and often times they are just thrown away.
 
Save the cables! Just test them and avoid buying new ones.

What makes it special?

Unfortunately there is no easy way to extract whether a certain cable can support a certain use case. If a cable has a broken pin, that makes it even worse, due to their unpredictable behavior. The HDMI caberQU cable tester solves this once and for all. That's on purpose and defined in the USB C standard. The product is sold with one CR2032, the PCB and an extensive manual. The HDMI cable is not included. You have to extract the needed pins for your desired usage on your own, unfortunately that can not be done universally for all possible combinations.
The HDMI adapter set includes 1x "HDMI A to micro HDMI D" and 1x "HDMI A to mini HDMI C" adapter. These can be used to test different types of cables for e.g. Raspberry Pi or similar small size products.

No dedicated power supply is needed, all necessary power is supplied via the CR2032 battery. The battery is only discharged when a cable is connected and should last for a while.

Please note that if you have a cheaper shipping option I'm gladly using it and refunding you the difference.

If you have any questions, just shoot me a message!
Data sheet
Package content

1x HDMI caberQU, 1x CR2032 battery, 1x manual

Dimensions

87x45x5.5mm

Battery

CR2032 - 3V

Weight

16g without battery

Battery lifetime

approx. 2 years at 1 test per day 10 sec. each

Operational and storage temperature

+5°C to +35°C

Relative humidity

max. 90%

Connector A

HDMI A

Connector B

HDMI A
Specific References
EAN13

746052578820

MPN

HDMI caberQU v3.1
6 other products in the same category: